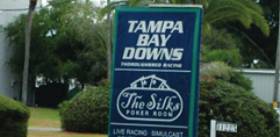 "Tampa Bay Downs, was so impressed with our products that it lined all 1,400 of its stalls with Stallsavers."
Tampa Bay Downs Racetrack
"I installed 30 Stallsavers at Presque-Isle Downs in Pennsylvania. I'm bedding on straw and can't beleive the savings"
Jerry Bennett - Well respected thoroughbred trainer for many years
"My horses stay sounder and rest better."
Ron Allen - Multi-Stakes winning trainer for over 40 years.
"I Love'em; I save on bedding and my help take half the time cleaning stalls."
Kathleen O'Connell - One of Florida's top trainer with over 2,000 wins.
Razor Family Farms Installation, Photos, and Video Review Horse Family Magazine Photos and Review
"Stall Saver liners make my stalls look good all the time. I couldn't stand seeing my bedding being mixed with dirt. My stalls use to look terrible…. now they look terrific."
Rob O'Connor, Horse Trainer, Churchill Downs, KY
"For what the stall liners cost, I tried one. A couple weeks later I did all ten of my stalls. I think I'll save a lot of money and installation was easy just like you said."
John Guciardo, Horse Trainer, Presque Isle Downs, Erie, PA
"Hey thanks for turning me on to your liners. I put them in 30 stalls. My help cleans the stalls in minutes and my shavings bill is half what it use to be."
Mike Ferraro, Horse Trainer, Finger Lakes, NY
"My stalls use to look like hell. I can't believe the difference. I wish I found your liners years ago."
Gary Caple, Horse Trainer, Ocala, FL
"When I first saw your stall liners I didn't think much of them. I had a couple of horses that were diggers. After 6 months I am truly amazed, they still look like new."
Kirk Ziadie, Leading Horse Trainer, Calder Race Course, Miami, FL
"We are truly happy with your stall liners. I also recommended your product to my neighbor. They work perfect."
John Carr, Augusta, GA
"After paying high monthly shavings bills, I decided to install your liners. After 3 month the liners have paid for themselves. Not to mention the big improvement in the looks of my stalls."
Karen Mathews, Haledon, NJ
"I ordered one just to try it. It was easy to install and has held up very well. I was so pleased I just ordered 5 more."
Dave Gilford, Centerville, OH
"The price of everything keeps going up. It's a no brainier, I save money, time and the environment. What's not to like."
Amanda Anderson, Brandon, FL
"I save money on both ends. Less shavings going in and less shavings coming out. I feel like I'm going GREEN! Thanks."
Elliott Fuller, Bossier City, LA
"I make my living training horses. Your stall liners save me on bedding and labor. I can't afford not to use them."
Jane Cibelli, Horse Trainer, Monmouth Park, NJ
Thank you so much for getting my order out the same day. I really appreciate you going above and beyond to make me a happy customer. And that you did. I can't thank you enough. God bless you and I will let you know when it gets here. Thank You Thank You Thank You!! I am almost in tears. P.S. I will tell my friends about your product
Christi
We installed the Stall Saver in a run in this past summer. My husband, who's in his sixties, did the installation in about two hours. After a snowy Connecticut winter and now muddy spring, we couldn't be happier with your product. Our two horses enjoy having resilient, dry flooring, and cleanup is a breeze. Surprised that more people don't use them.
Jakie Sanford
I just wanted to send you a message to express how much I trust and love the Stall Saver liners. I ordered 5 from you about two years ago with some hesitation. After receiving and installing them I have to say we love them. They are really tough! We raise show pigs and the Stall Savers held up to sows with litters and our boar! If there is any creature out there that can destroy something it is an 800 lb boar. They held up all winter and in the spring they were still like new shape! WOW. We have since sold that home and have moved and now need to install a flooring in our new barn as it has dirt floors and was built in 1919. I will be ordering my stall flooring from Stall Savers for sure!!!
Corie Downey
I just wanted to add to your testimonials. I bought a stall saver to try for my older school horse who suffers from anhydrosis, therefore drinking about 6 gallons of water a day and making a lake out of it. He also paws during feeding time (twice a day, every day). So far I have had the stall saver for about 5 years and it is still in damaged and going strong. To top it all off, my barn flooded in 2016 with about 3 ft. of water in a flash flood. Thankfully, all of the animals were evacuated with no injuries, but I assumed my stall saver was ruined. We moved to a different barn, and while cleaning up, I dug our the stall saver and hosed it off. Put it in his new stall and it still works like a dream. I couldn't believe it! It sat under old shavings and mud for about 2 weeks. Nothing else in the barn was salvageable! I've told a number of people that story and decided it was time to tell you guys. Thanks for such an amazing product. I will always highly recommend stall savers!!! I only wish I could afford to line the rest of my stalls!
Mesha
Fields marked with * are required.